We're Expanding Our Lansing Area Home!
If we build it, they will come…
Provide quality pediatric therapeutic services that meet the changing needs of children and their families in a supportive atmosphere; this is Children's Therapy Corner's mission. Aligning with that mission, our shared vision includes a physical environment that has the comfort and feeling of "home".
We want our families to be comfortable in our facility — from a crackling fire in the fireplace, to fresh coffee in the kitchen; the details of our physical environment help to translate the care with which we treat our children.
We began serving families in Lansing in September 2013. Our rapid growth has clearly demonstrated the need for pediatric rehabilitation services in this area. It's our goal to create a warm, inviting setting in our own, stand-alone building. That objective has moved closer toward becoming a reality. We purchased 14 acres in Delhi Township, and architectural plans are completed for a custom designed, state-of-the art building. Our custom design ranges from in floor heating, because we know on the floor is where our kids like to play, to custom mat flooring in our gyms for safety. Your child and their needs are what we are all about and we make certain our buildings reflect that commitment to their therapy needs.
Lansing anticipates an early 2018 ground-breaking date, hoping to welcome clients through the front doors by first part of 2019. Please continue to check back over the next few months to see the progress. This is an exciting time for our Lansing location. We can't wait to work with your children in our new expanded space!
Welcome Home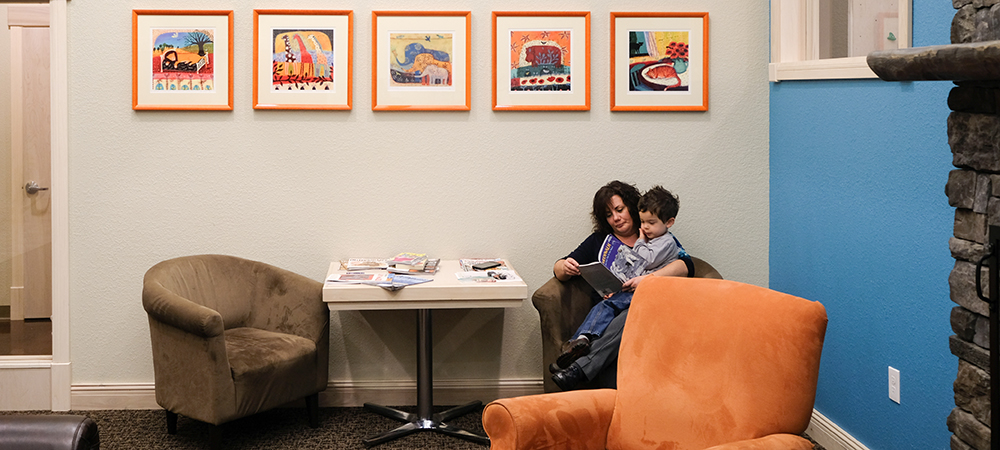 Our building designs and decorating decisions were made for therapeutic reasons. However, we also created a homelike atmosphere at each location which is conducive to learning and growing while having fun.
While we encourage parents to be involved and engaged during therapy sessions, we also recognize that sometimes, you just need to relax. The waiting areas in all facilities are designed for children and look like a home, so families walk into a comfortable — not clinical — environment. These cozy settings are perfect for families to interact, which can form a great basis for a support network.
---
Our Design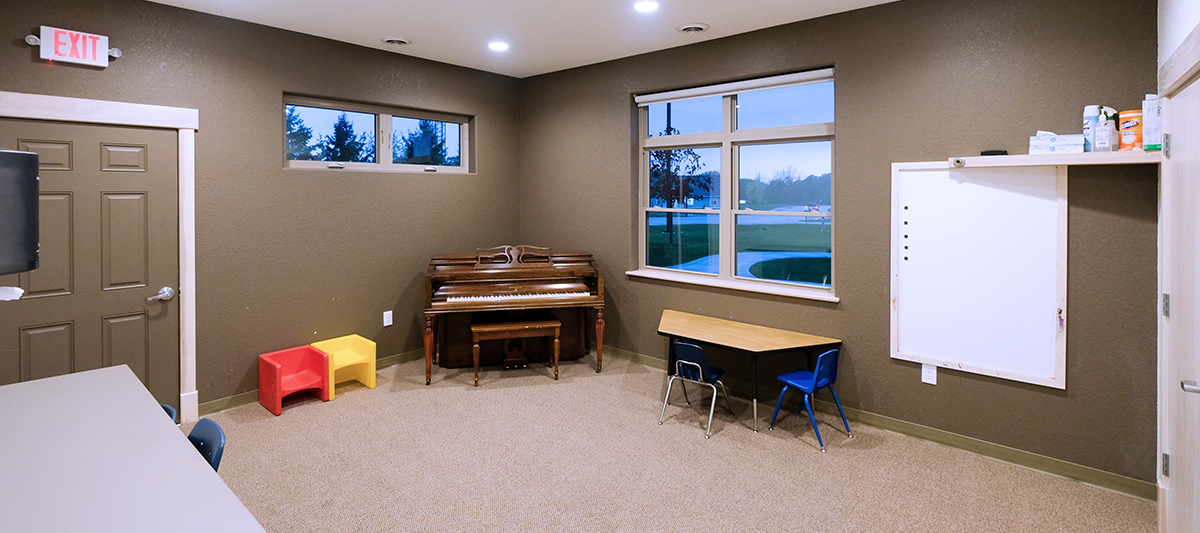 Smaller rooms facilitate therapy for those children requiring quiet, highly structured environments with limited stimuli. Larger rooms are adapted for gross motor and sensory techniques.
Many windows offer natural lighting throughout our buildings. The paint colors on walls and our lighting (no fluorescent) were chosen with the specific goal of making kids who are easily overwhelmed feel calm and comfortable. Sidewalks and outdoor play areas invite walking, biking or your little artist's chalk creations.
---
Our Kitchens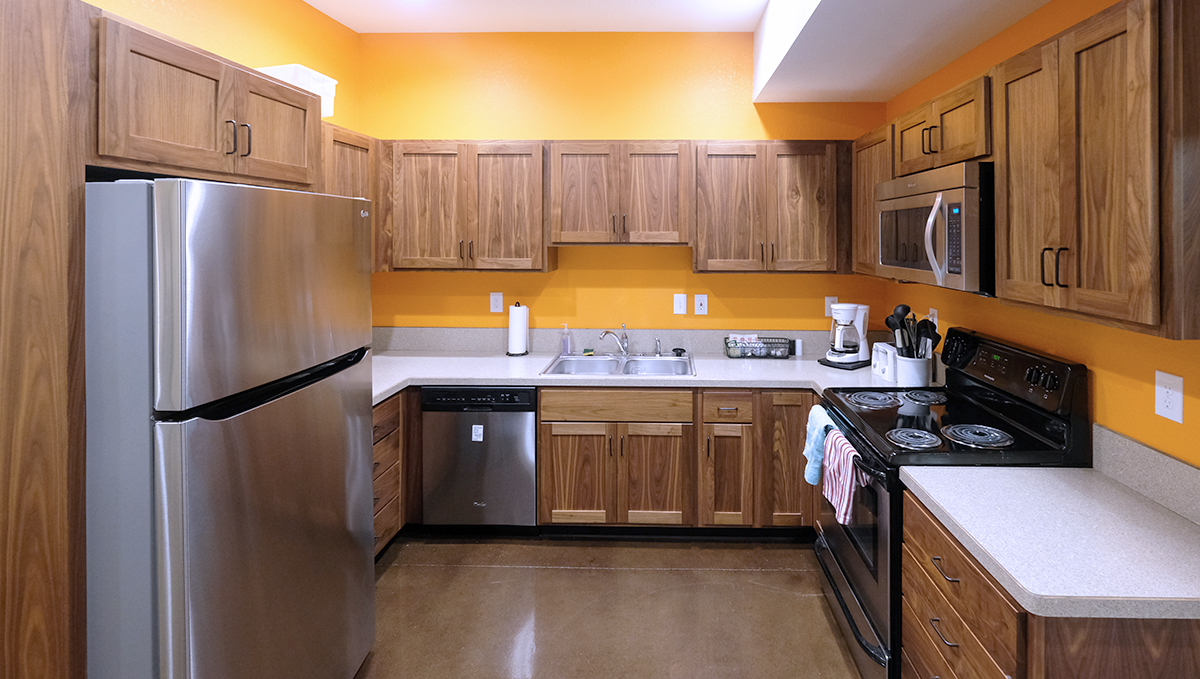 The facilities have kitchen areas that provide space for families to get a glass of water or cup of coffee while waiting or participating in therapy sessions. The kitchens are also used to encourage skills such as organization, planning, following directions, exploration, creativity, and fine motor skills. The child may be engaged to bake, create a snack, or even increase flexibility to try new foods (i.e. a 'picky' eater). These are also areas with more traffic for the child to work on attention to tasks with distractions.
---
Our Sensory Gyms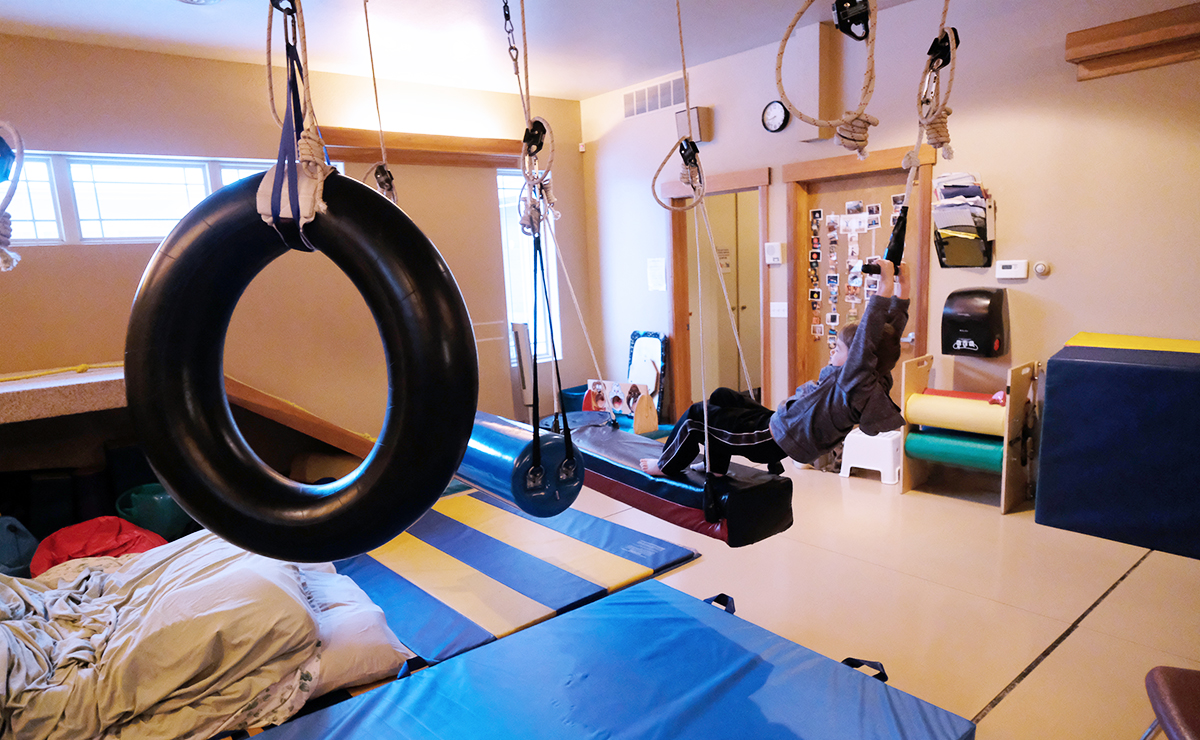 Our sensory gyms are used by children during all types of therapy. The equipment in these gyms can be used to help children 'wake up' or calm down. A variety of sensory techniques are used here, individualized to the child's needs. Jumping, climbing and swinging might look like fun — and they are — but every activity here has a therapeutic purpose.
These sensory gyms have climbing platforms with slides to provide larger movements and pillow pits in which kids can jump. There are a variety of swings, to provide movement input. You will see children pushing scooter boards, swinging in a stretchy swing, or jumping into the pillows to improve their sensory processing skills and strengthen their muscles. The children think this is just a big indoor playground (no work completed here), and we like to keep them thinking that way.
Following treatment in these gyms, the goal is for each child's nervous system to be at a "ready" state, and for the child to be able to concentrate on functional daily activities. Sometimes, the hardest part is transitioning OUT of this room.
---
Our Big Gyms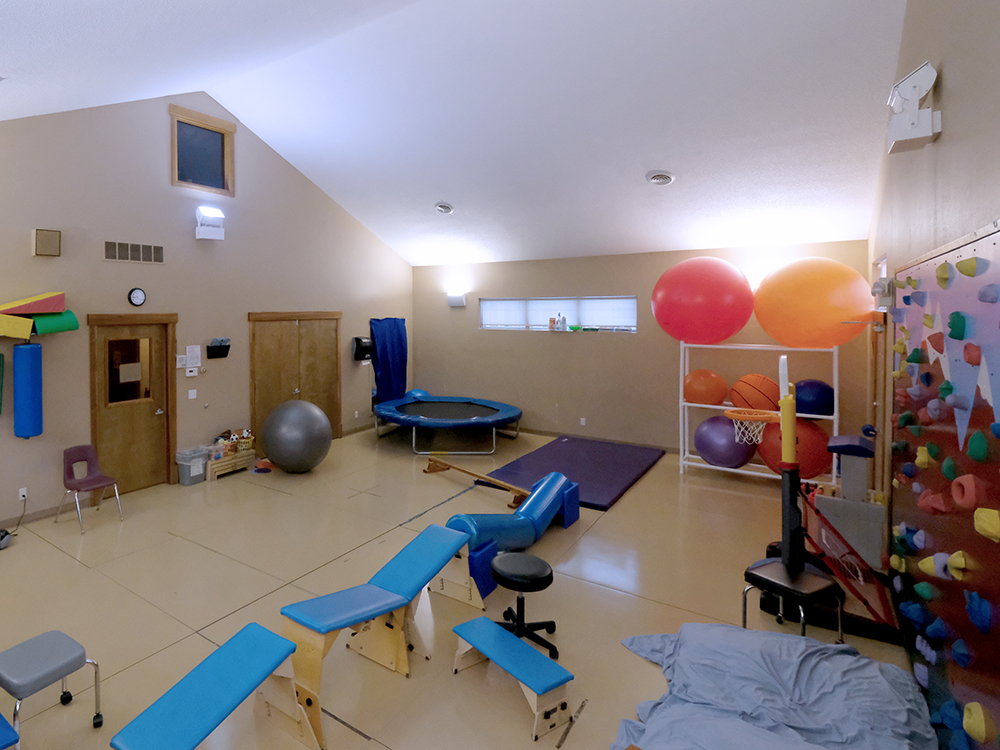 Our big gyms allow for larger gross motor activities including running, jumping, throwing and kicking a ball. You will see the incorporation of therapeutic equipment such as stability balls of varying sizes and partial weight-bearing treadmill training. The big gyms promote child interaction in a natural and functional manner while encouraging the achievement of therapy goals and objectives.
All spaces in our "homes" are used by all therapists — Occupational, Physical, Speech-Language and Music. Our Homes are places where children feel safe and loved enough to explore beyond their comfort zones to learn and grow, a place where families discover possibilities and feel supported. All of our homes are set up with your children in mind. Welcome to Our Corner.
---
Children's Therapy Corner provides therapeutic intervention for children. CTC was founded on the belief that there should be a place where families can come and learn about their child's needs, in a supportive team atmosphere. We will work with you to provide direction and support for your family and your child. The goal is for your child to live their life to its fullest capacity.