Children's Therapy Corner is proud to offer The Sandbox, a developmental-based transdisciplinary program providing intensive therapeutic services specialized for children with a medical diagnosis of autism. Why is it called the 'Sandbox'? The name was chosen to represent a place designed where all children and professionals can come together to learn, grow and play.
The purpose of this program is to provide children the developmental skills and abilities to become integrated into their school and community along-side their peers, as independent social partners. Research continues to show that it is integral to begin intensive intervention for children as early as possible.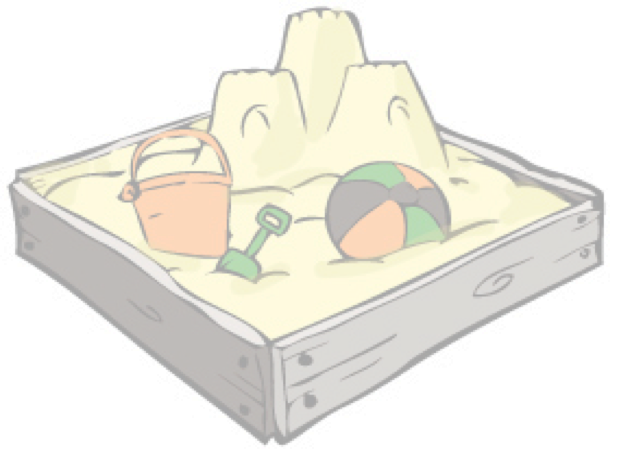 ---
Learn More About Sandbox
---
About This Therapy

The Sandbox program focuses on play, socialization, communication, education and behavioral support for children under age 7. Our approach uses evidence-based, individualized intervention in 1:1 direct instruction and small groups. This is an intense program, scheduled 5 days a week for 3 hours each day.

If your child is in the Sandbox, you can expect him or her to participate both in small group therapy and in one-on-one sessions. Applied Behavior Analysis (ABA), Speech-Language, Occupational, Physical and Music therapies as well as parent education are services within the Sandbox. Home-based ABA is also available for the children enrolled in the Sandbox to further increase generalization of skills into the home and provide additional education and training for the families. The PLAY Project is available for families as a parent-mediated intensive intervention and is completed within the home working with a PLAY Project Consultant.

Conditions Addressed (for children with Autism)

Communication
Socialization
Regulation
Engagement
Play
Behavioral support
Self Help Skills
Gross and Fine Motor Development

The Sandbox program will also provide parent training and education. Parents are an integral part of the Sandbox as we work together to help your child succeed. We will provide you resources, coaching and encouragement as you also learn how to support your child's development.

Treatment Approach

For intake and planning, each recommended discipline completes an evaluation to assess your child's skill level to determine the focus of treatments and goals. Those frequency recommendations are compiled to create an individualized weekly schedule and program unique to your child. Treatment involves a transdisciplinary approach of all the different disciplines addressing their specific targeted areas as well as collaborating with the team to use a whole child approach.

Find Your Location

Explore or contact one of our locations for therapy availability.
Children's Therapy Corner provides therapeutic intervention for children. CTC was founded on the belief that there should be a place where families can come and learn about their child's needs, in a supportive team atmosphere. We will work with you to provide direction and support for your family and your child. The goal is for your child to live their life to its fullest capacity.