Our doors are open for face to face therapy.  The final component has been our Community Mental Health contracts and these options are changing for families.  This is very exciting.
We will continue teletherapy as allowed by your insurance coverage.  Children's Therapy Corner is aware that all insurances are reviewing their timelines for discontinuation of this as an option.  If you are aware of any changes, extensions or modifications of your coverage, please call the Billing Department (989) 835-3235.  Please also continue to discuss and work with your therapists as to be best way we can serve your child as the options expand.
Although the Stay Home Stay Safe Executive Order was modified, this does not impact the protocols necessary for any business to be open and provide a safe environment.  Therefore, the Greeting stations, screening form, masks, social distancing and sanitation guidelines remain.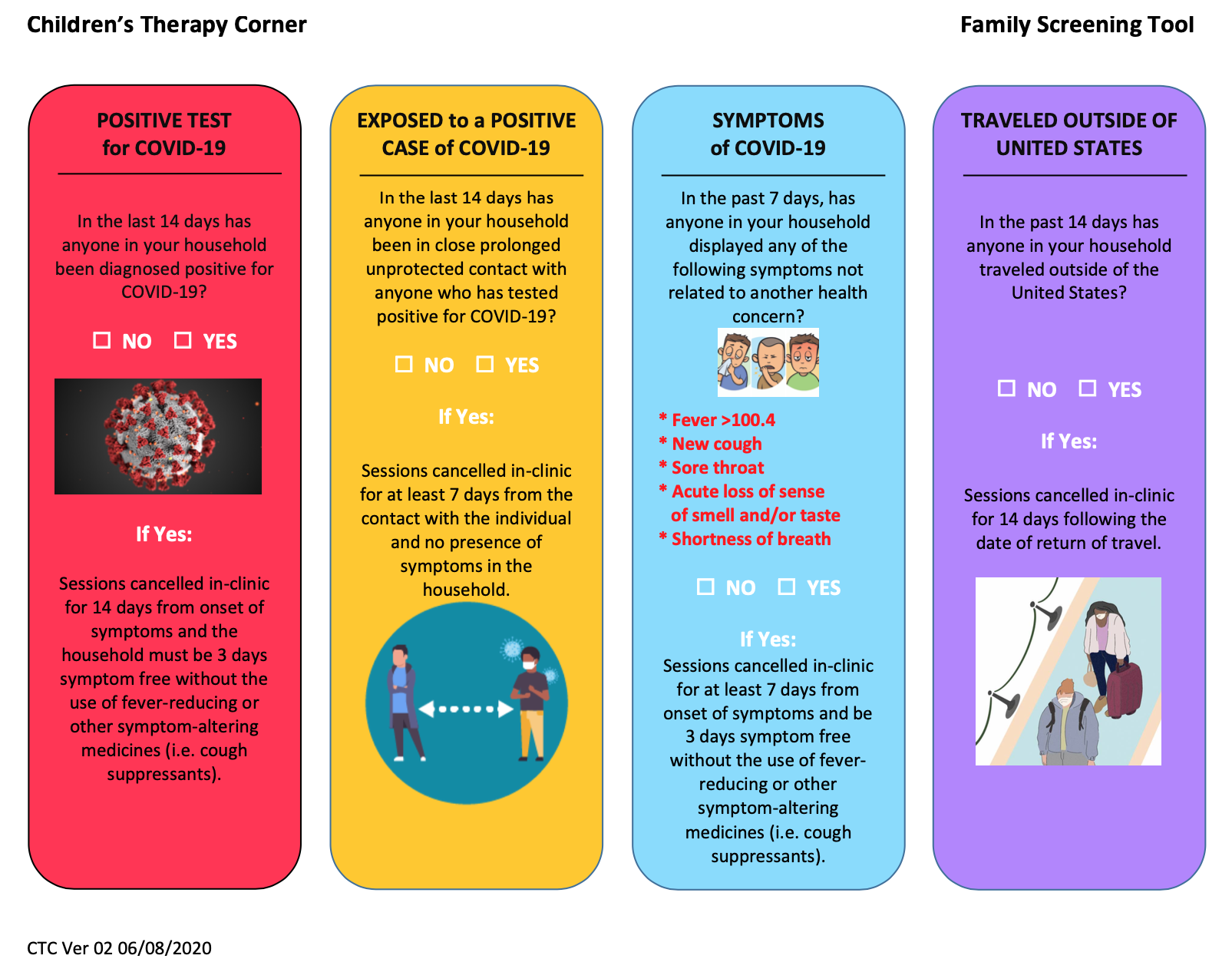 However, we wanted to share an update and clarification:
Please review the Updated Family Screening Form required for entering our buildings. Based on the opening of so many states, we are no longer asking about traveling across state lines.

 

We are only asking about International Travel outside of the United States.
To minimize people in our buildings and allow for social distancing, we are asking that only one adult attend the session with your child.

 

If additional adults want to attend, please let your therapist know in advance so they can choose the best location with optimal space.

 

We know it is challenging, but please do not plan on siblings and know that our lobby is closed.
All of these requirements and changes in how we operate are hard for you as the family members, the children we serve and our staff.  We are making it through, and we are moving forward.  CTC will keep you updated as more changes come and how we can serve you and your child.
Stay safe and together we will get through this!